GAPURAPRIMA GROUP & BANK BTN SPECTACULAR PROMO
24 January 2017
Gapuraprima Group and Bank BTN have a spectacular promo of the payment program to get your dream house or apartment "180X Installment of KPA and 30X Installment of KPR (terms and conditions apply) in the JCC exhibition, which will be held on 11 – 19 February 2017.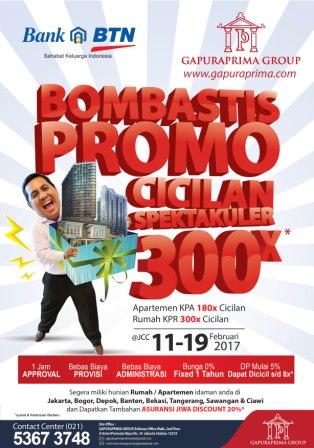 PT. Perdana Gapuraprima, Tbk - BTN's Award
13 December 2016
PT. Perdana Gapuraprima, Tbk has been awarded by President Director of BTN, Mr Maryono, as the primary partners of loyal developer in synergy more than 20 years with Bank BTN on Tuesday, 13 December 2016, in the BTN's anniversary celebration at Menara BTN, Jakarta. This event has been attended by Minister for State Owned Enterprises (BUMN) Mrs Rini Soemarno as well.
Gapuraprima & BTN in Harmony - XXI Cafe & Lounge Plaza Senayan
03 December 2016
"Gapuraprima & BTN in Harmony" special event (Talk show, Live music) was held at XXI Cafe & Lounge Plaza Senayan, Jakarta on Saturday 03 December 2016, We thank one of Board Director of Bank BTN Ms Handayani and Senior Vice President Non-Subsidized Mortgage & Consumer Loan Lending Division Bank BTN, Ms.Suryanti Agustinar and the great team (Mr Romeo, and Mr Dedy) as well, for this special occasion
Notification the Planned of Annual Public Expose
In order to comply with the regulation of the Indonesia Stock Exchange No. I – E, regarding the obligation of submission the information, therefore PT. Perdana Gapuraprima, Tbk has issued notification to the Indonesia Stock Exchange regarding the planned of Annual Public Expose, which will be held with the following schedule :
Day/ Date : Friday, 02 December 2016
Time : 09.30 WIB
Place : The Bellezza Permata Hijau, Tuscany Room, Albergo Tower 7th floor
Jl. Letjen Soepeno No.34, Arteri Permata Hijau
Jakarta 12210